Explore The Style...
Sparkling wine – the stuff of dreams, the sparkle in your eye and heartbeat of any party. Made from a multitude of different grape varieties in most wine-making countries around the world, it's often as though the wine world is awash with festive fizz.
But what's all the fuss about? Why do we love sparkling wine so much, and why does Champagne capture our attention like no other sparkling wine? Each year we put together this seasonal selection of sparkling wine production methods to help us taste our way through and help us get a little bit closer to figuring it out.
Can you taste the difference?
There are many different ways to make the bottle bubble though, and each method of production produces wines of slightly different character. We thought we'd put together a little selection of a couple of them, from a few different countries. There's rosé and white, there's Champagne proper and a damn good imitation of it, but they all taste great and are guaranteed to start a party.
But for the first 100 lucky members we've put together three of our absolute favourite bottles available to compare the different regions and types. Traditional Champagne. Traditional Method but from Portugal. And one of what we think is a stunning example of the Petillant Naturel method out there. Click below to find out all the details below.
The Bottles That Made The Box!
Bottle #1: Method Champenoise - Fleury Blancs de Noirs NV. Champagne - the undisputed king. Invented in England but appropriated by the French, it's now limited to a small region in the north-east of France. At least to be called Champagne that is. A long, slow process involving 2 separate fermentations, but worth the wait!
Bottle #2: Method Traditional - Caves de Montanha Castelo da Lapa 2015. Actually the same method as Champagne, but allowable anywhere in the world, from any grapes. Produces wines in a similar vein, but often slightly 'fruitier'. We've found an absolute cracker from Portugal. See which one you like more.. the French or Portuguese?
Botte #3: Petillant Naturel (Pet Nat) - Bertrand Bespoke L'Ecume du Jour 2017. The original method for making wine sparkle - simple, rustic, joyful. A single fermentation that finishes inside the bottle, with the gas produced from the ferment dissolving directly into the wine.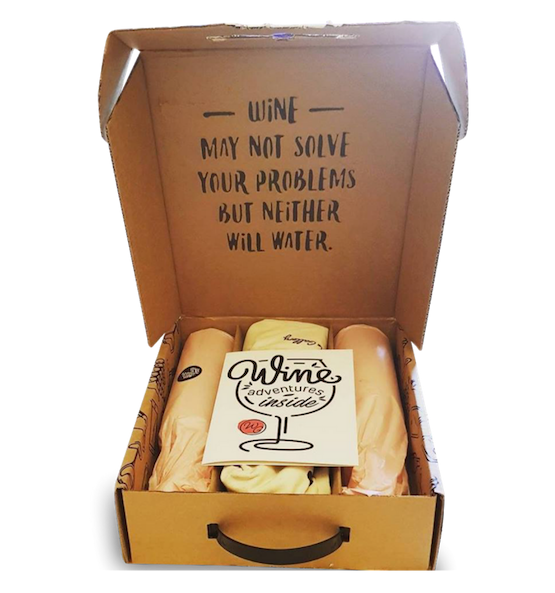 3 Special Bottles For $160.
Same day dispatch.